Science Literacy
Science LiteracyⅠ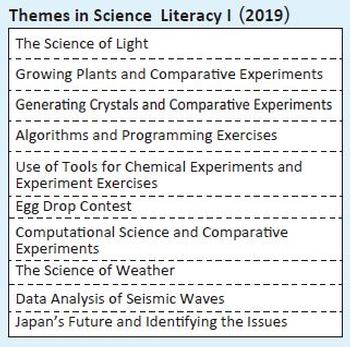 In Science Literacy I, students learn research methods through classes by university or corporate experts, to gain a broad understanding of how scientists see the world. They learn research methods by coming face to face with the real thing and engaging in practical exercises, preparing them for a smooth entry to the second-year research course (Science Literacy II). The classes through the year follow the six areas of Science Literacy II. They also develop the required knowledge for Science Literacy II, such as theme-setting, hypotheses, planning, results, investigation, and so on.
The students undertake fundamental chemical experiments as conducted at universities, such as measuring absorbance to find the concentration of a substance. Their ability to learn and generate ideas is developed through discussions on what conditions are required to grow white radish sprouts, actually growing them and presenting their findings.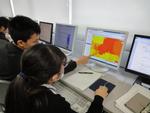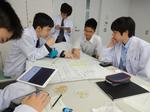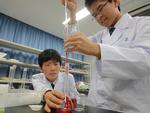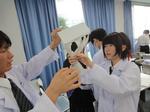 Science LiteracyⅡ/Ⅲ
Students who have engaged with science and learned the basics of research through Science Literacy I proceed to research studies on specific themes in the second-year Science Literacy II. Science Literacy II consists of 24 courses spread among six fields as shown in the diagram. They engage in research in the twice-weekly classes and after-school studies. At the end of August, they give interim reports in front of the faculty. These reports are used to create posters in English for their trip abroad to Malaysia in October. They give a final report on their entire year's work at the presentation meeting in January. Those who wish to continue their research further can go on to Science Literacy III in the third year.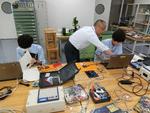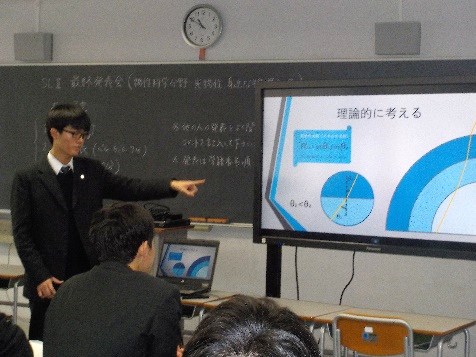 登録日: 2015年11月10日 / 更新日: 2019年3月19日